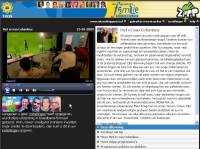 "Yolanthe Cabau van Kasbergen presenteert deze afvalrace waarin wordt gezocht naar dé Willie Wortel van Nederland! Kinderen kunnen hun zelfbedachte idee uitwerken, ontwikkelen tot een echt product en een eigen bedrijf leren opzetten. Zo komt het idee van de alarmportemonnee, de blindengeleide schoen of de pratende buspaal langs."

(bron)
Ik zapte er vanochtend toevallig voorbij: Het ei van Columbus van de Tros/ZaPP.
Mooi vind ik dat het programma niet blijft steken bij het "goh, leuk knutselwerk" maar dat de ideeën serieus verder uitgewerkt worden. In de aflevering die ik gezien heb, die van 23 mei 2009 (meteen ook de finale van dit seizoen), laten ze zien hoe ze voor acht ideeën een reclame-clip maken. Compleet opgenomen voor het green screen en daarna professional uitgewerkt tot een pakkende clip. Alleen daarom al interessant om te bekijken.
Wel heftig natuurlijk dat die kids iedere keer moeten afvallen. Je moet er toch maar staan en horen dat je niet of juist wel door gaat. Wel raar vond ik dat het opeens heel snel ging en ik vond de keuze voor de uiteindelijke winnaar daarom dan ook onduidelijk en een beetje afgeraffeld.