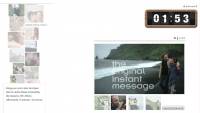 "Barack Obama may get to keep his BlackBerry, but David Axelrod is losing his IM. The lawyers broke the bad news to Obama aides at a briefing Friday morning convened by incoming Deputy White House Counsel Cassandra Butts: Not only are they leaving the modern world to enter a White House where some of the clunky desktop computers still run Windows 2000 but 'worst of all' they'll be forced to surrender a form of communication staffers have relied on for the last two years to communicate with each other, outside allies, and the press."

(bron)
Ik had eerlijk gezegd al helemaal genoeg van alle berichten over het BlackBerry-gebruik van de aanstaande 44e president van de Verenigde Staten.
Maar wat ik me niet gerealiseerd had, totdat ik dit bericht las, was dat de beperkingen rond gebruik van e-mail en chat/instant messaging niet alleen voor de president zelf gelden, maar ook voor zijn hele staf. Terwijl die juist de afgelopen twee jaar heel intensief gebruik gemaakt hebben van die hulpmiddelen.
De hele discussie lijkt een beetje op de discussie rond het gebruik van zulke middelen binnen scholen. Er zijn mensen die prima kunnen uitleggen waarom het heel logisch is, sommigen zien er zelfs de voordelen van in, maar feit blijft dat er een groep mensen opeens heel anders moet gaan werken.
Gezien de ervaringen met Bill Clinton weet ik overigens niet helemaal wat nu te denken van deze reclamecampagne van een leverancier van pepermuntjes. Of die 'original instant messages' en chatrooms nu zo gepast zijn binnen het Witte Huis? We zullen zien.
Let op: je hebt exact 3 minuten om de filmpjes en foto's op de site te bekijken, dan wordt je geacht de site te verlaten.