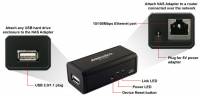 "The Addonics NAS Adapter is a small-sized, simple device with a 10/100Mbps Ethernet port on one side and a USB 2.0/1.1 plug on the other. With the device attached to your home network, any USB-based hard drive plugged into it becomes a NAS device, accessible by any system on the network. The device can be configured as a DHCP client, DHCP server, or assigned a static IP address. The device supports both Samba (up to 64 concurrent users) and SMB, so it should be able to be accessed from most major operating systems (such as Windows XP, Windows Vista, Mac OS, and most Linux distributions). The Addonics NAS Adapter can also be set up as print server, Bit Torrent server, FTP server (with support of up to 8 concurrent users), or a UPnP AV server (which can serve AV files to some game consoles, such as the XBOX 360)."

(bron)
Het zag er uit als een heel handige, compacte, complete en betaalbare oplossing om een 'gewone' USB harde schijf eenvoudig om te bouwen tot een via het netwerk te bereiken schijf. Compleet met FTP-server, Bittorrent server en zonder de noodzaak om op elke aangesloten computer aparte software aan te sluiten.
En dat voor maar $55,-
Hoewel ik er zelf geen nodig had, ik ben nog steeds tevreden met mijn Synology NAS, heb ik toch maar even opgezocht wat de verzendkosten waren. En dat was even slikken, want dan komt er nog eens $39,- bij voor verzending naar Nederland. Met een totaalprijs van $94 is de Addonics NAS Adapter natuurlijk opeens een stuk minder een must-have koopje.
Maar ondanks dat blijft het verbluffend wat er in zo'n klein kastje past. Ik durf te wedden dat de bijbehorende voeding een stuk groter en zwaarder is.