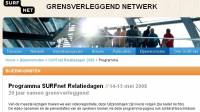 Ook de SURFnet Relatiedagen 2008 zijn opgenomen, tijdens de dagen zelf live gestreamed en beschikbaar om achteraf terug te kijken. Goed voor uren kijkgenot.
Anders dan bij systemen als Mediasite of Apreso/Echo360 zijn deze opnames het betere 'handwerk' waarbij tijdens het opnemen geschakeld wordt tussen de video-opname van de spreker en de video-opname van de dia's.
Ook hier (net als bij Triple-L) ga ik het even niet in mijn hoofd halen daar hard over te mopperen, maar het gebrek aan mogelijkheden om te navigeren binnen een video wordt bij zulk groot aanbod van video's natuurlijk heel duidelijk zichtbaar.
Mijn aanpak in zo'n geval is het aanzetten van de video en dan bijvoorbeeld een blogpost maken, van tijd tot tijd schakel ik dan terug naar de video bijvoorbeeld als er een stukje voorbij komt waarbij ik ook de slide of de demo wil zien. Multitasking dus.