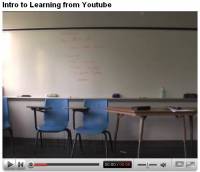 "Thinking through education on YouTube, after teaching a class using its many resources and even greater limitations, I found that the specificity of the site, and some of the features more generally of Web 2.0, served to unsettle six binaries that typically structure the academic classroom. As these rigid binaries dismantle, the nature of teaching and learning shifts (I'd say for the worse)."

(bron)
Het is een bericht van een paar dagen geleden. Wilfred Rubens reageerde er meteen op, maar het was er eentje waar ik zelf wat langer op moest broeden. Een uitgebreider interview vind je overigens hier: deel 1 en deel 2.
Het experiment van Alexandra Juhasz, Professor of Media Studies aan het Pitzer College, in Claremont, Californië . lijkt helder en simpel: we onderzoeken de mogelijkheden van YouTube, en indirect Web 2.0, door er zo veel mogelijk gebruik van te maken. En het resultaat bleek tegen tegen te vallen. Lees verder….