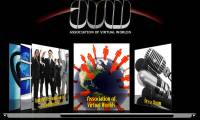 De AVW, de Association of Virtual Worlds, heeft een inventarisatie gemaakt van de alle virtuele werelden die op dit moment live zijn of nog ontwikkeld worden. Ze staan in een document van 41 pagina's op alfabetische volgorde (downloaden als ZIP), beginnend bij 3B t/m Zynia.
Het schijnen er in totaal 250 te zijn maar ik moet bekennen dat ik dat niet nageteld heb.
Ik heb wel zo mijn twijfels over het nut van de lijst. Want de informatie per wereld is wel heel summier. En als de site waar naar gelinkt wordt ook al niet duidelijk is, weet je nog niets. Neem nou die Zynia omgeving. Daar is niets over te vinden op de site waar naar gelinkt wordt. Bestaat die omgeving wel?
Nou ja, het is in ieder geval handig als je op zoek bent naar een (tamelijk) compleet overzicht. En via de website kunnen ze er voor zorgen dat de informatie actueel blijft. Overigens, zoeken op Zynia levert daar in ieder geval geen hits op.
(getipt door secondlife.blogo.nl)