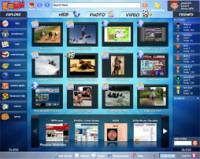 "Het 'KidZui Internet' kent een eigen browser, ontworpen door het bedrijf. Het uiteindelijke doel is dat ouders van kinderen in de leeftijd van 3 tot 11 een abonnement nemen op de dienst, jaarlijks $99 of maandelijks $9.95. De abonnementsgelden worden aangewend om een groep editors te ondersteunen, ze zullen de kinderen monitoren en kijken waar de interesse van de kinderen ligt buiten KidZui. Deze sites worden door hen bekeken en toegevoegd aan KidZui als ze geschikt bevonden worden."

(bron)
Corné Kox tipte me via de mail over een post die hij op het [over leven] weblog geplaatst heeft over de KidZui dienst.
Ik heb er even naar gekeken. Maar hoewel ik me kan voorstellen dat je je kinderen liever niet in de minder prettige uithoeken van het internet wilt laten komen, heb ik toch zo mijn bedenkingen bij dit soort systemen. Mijn kinderen komen vaker op school op internet dan thuis. Nu betekent dat nog meestal dat wij er bij zitten, dat zal straks ongetwijfeld anders worden. Maar dan nog vind ik het (moeten) vertrouwen op dit soort omgevingen niet handig.
Niet dat het niet handig of prettig kan zijn om je kinderen op deze manier het internet op te sturen. Maar ik zou er dan toch aan willen werken dat je ze leert hoe ze zonder die beschermde omgeving zich online gedragen.