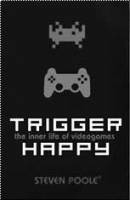 "As a follow-up to my post on Amazon's crippled and hideous Kindle, and the discussion at Mark Pilgrim's place, I thought I'd try an experiment, and give away for free an 'ebook' version of my first book, Trigger Happy, with no 'digital rights management' whatsoever. It'll work on anything that can read a PDF."

(bron)
Ik zal de discussie over wat ik van De Amazon Kindle laten tot de EduKast aflevering van a.s. zondag (als je daar jouw eigen mening bij wilt laten horen dan kan dat, stuur dan even een mail, een MP3-bestand of spreek een voicemail in via 0493-712007). Maar in het kader van "tijdelijk gratis, maak er gebruik van" wilde ik je wél even wijzen op de actie van Steven Poole die tijdelijk een PDF-versie van zijn boek Trigger Happy online gezet heeft. Hij geeft niet aan hoe lang hij dat doet, dus sla nu even een kopie op voordat hij weer weg is. Formeel is het overigens zo dat ik mijn kopie ook nadat Steven zijn exemplaar verwijderd heeft gewoon hier ter download mag aanbieden, maar ik neem aan dat hij ook gewoon wil weten (aantonen) hoeveel belangstelling er voor zo'n download is. Dus daarom link ik ook naar zijn post hierover in plaats van de PDF zelf.
Ik heb het boek nog niet gelezen, het is op een gewone laptop ook niet zo heel gemakkelijk te lezen omdat hij voor A5 is opgemaakt. Dat betekent dus dat je het op een iLead, een Tablet PC of een LCD monitor met draai functie beter kunt lezen.