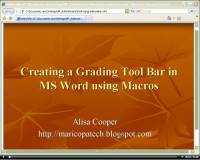 Via het Screencast of the week bericht op The Visual Lounge kwam ik bij screencast van Alisa Cooper (excuus voor de eerdere typo).
In die screencast legt ze uit hoe zij Word gebruikt om werkstukken van studenten te beoordelen. Daarvoor heeft ze een eigen werkbalk in Word gemaakt waarmee ze eenvoudig "comments" (opmerkingen) kan plaatsen in een document door gewoon het stukje tekst te selecteren waar ze iets over wil zeggen en dan op de juiste knop op haar werkbalk te klikken. Heel eenvoudig en omdat de opmerkingen daarna ook gewoon te wijzigen zijn kan ze de standaard reactie indien nodig eenvoudig aanvullen.
Handig en helemaal aan je eigen situatie aan te passen al heeft het natuurlijk alleen nu als de soort reacties die je wilt plaatsen een beetje een vaste structuur hebben. De screencast (gemaakt met het Jing Project) duurt 4 minuten en 20 seconden.