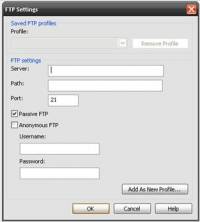 Nog 3 dagen wachten totdat versie 5 van Camtasia Studio beschikbaar is.
Eerder schreef ik al over:
* SmartFocus
* De nieuwe recorder
* Projectinstellingen voor afmetingen
* Transitions and callouts
* Verbetering in Flash Video uitvoer
* Bewerken in 30 beelden per seconden
* Ondersteuning voor Silverlight
Het is nu echt bevestigd. Bij Techsmith moeten ze een cursus marketing volgen en leren dat als je in 10 dagen de spanning wilt opvoeren voor de release van een product, je niet de eerste dag met de belangrijkste wijziging komt en daarna alleen maar minder indrukwekkende zaken laat zien.
Vandaag niet eens een screencast in de Sneak Peek. Waarschijnlijk omdat de wijziging zó onbeduidend is dat het niet de moeite waard is om er een screencast van te maken: je kunt vanuit Camtasia versie 5 nu namelijk ook je bestanden rechtstreeks via FTP naar een server sturen (kon al direct naar de betaalde Screencast.com dienst van Techsmith).
Joepie.
Aan de screenshots te zien geen ondersteuning voor "secure FTP" en geen uitleg over de vraag of alle bestanden dan in die ene map worden gegooid die je aan maakt of dat er automatisch submappen worden aangemaakt.
Disclaimer: ik wordt niet betaald voor deze posts over Camtasia Studio v5. Ik heb zelf ook niet de beschikking over een bèta versie en moet dus af gaan op het informatie op de Visual Lounge weblog.