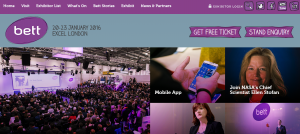 Vanavond vlieg ik naar Londen voor een bezoek aan de Bett 2016 morgen en donderdag. Ik doe dat als onderdeel van een door SURFnet georganiseerde trip.
Het is de eerste keer dat ik op de Bett kom en anders dan voorgaande jaren ben ik nu niet alleen geïnteresseerd in zaken voor het hoger onderwijs. Het iXperium / Centre of Expertise leren met ict werkt immers voor alle onderwijssectoren.
Natuurlijk betekent zo'n grote conferentie / beurs dat ik me enigszins moet voorbereiden om te voorkomen dat ik er twee dagen doelloos rond loop. Dus heb ik de App al op mijn telefoon en iPad mini geïnstalleerd en ben ik door het omvangrijke programma van aanbieders en sessies aan het lezen.
Van een paar dingen weet ik in ieder geval al dat ik ze níet ga doen. Ik hoef niet zo nodig naar Sugata Mitra of de videopresentatie van Sal Kahn. Panel sessies ben ik ook niet zo'n fan van, want de opbrengst daarvan blijkt heel wisselend. Heel specifiek UK zaken zijn natuurlijk ook niet zo zinvol (financiering etc), dus het is een beetje zoeken naar de pareltjes (overigens, gewoon het bladeren door de catalogus met producten is ook al interessant vanwege de diversiteit).
Daarom ook deze open vraag: wat zou ik zeker moeten doen? welke sessie / stand / leverancier zou ik zeker moeten bezoeken tijdens deze twee dagen in Londen?
Ik hoor de tips graag!.