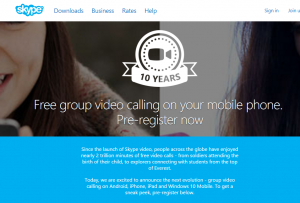 Skype bestaat 10 jaar. Hoera. En wat is de nieuwe feature voor dit jaar? Groepsvideogesprekken op iOS, Android en (uiteraard) Windows 10 Mobile. Joepie!
Het is ook niet alsof we daar niet al even op hebben moeten wachten. In 2011 bracht Skype-concurrent Fring (ze bestaan nog steeds, al heb ik ze in geen jaren gebruikt) de feature naar de iPhone. In datzelfde jaar (nu 5 jaar geleden) plaatste ik een overzicht van mogelijke concurrenten voor Skype op dit gebied. Een jaar later, in 2012, probeerde ik het tijdens een interne workshop, ook toen nog no joy.
En nu gaat het er dan eindelijk van komen. Handig, want mijn huidige werkgever heeft geen Skype for Business (of Lync 2013) en Skypen op mijn iPad blijft nou eenmaal een stuk prettiger dan op een laptop of desktop. Op de een of andere manier zijn er bij Windows (of het nou versie 7,8 of 10 is) van tijd tot tijd wel weer andere applicaties die de webcam geclaimd hebben, of die er voor zorgen dat de audio niet naar de headset gaat maar naar de speakers (logisch, want normaal wil ik daar de audio ook naar toe laten gaan) waardoor het bij de start altijd even gedoe is. Op mijn iPad mini werkt het gewoon altijd. Als dat straks ook kan bij groepsgesprekken is dat wel zo prettig.
Nu nog even wachten totdat hij écht beschikbaar is….