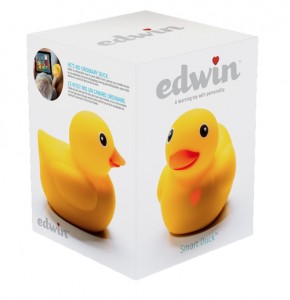 Een van de producten die in "Forbes 10 Under 10 Influencers in Tech" voorbij kwam was "DuckDuckDuck", the "though leaders in rubber ducks". Toen was het een grapje. Maar niet op CES 2016. Want daar kwam dit interview voorbij over Edwin The Duck, een "connected" badeend die je kunt kopen voor $99,-
De badeend maakt via bluetooth verbinding met je smartphone of tablet. Daarbij kun je hem gebruiken als besturing binnen interactieve verhalen. Maar er zit ook een thermometer ingebouwd, zodat je via het voorhoofd van je kind kunt meten of ze koorts hebben (tja, dat lijkt me niet zo'n goed idee) of waarmee je kunt kijken of het badwater niet te heet is (kun je zelfs een notificatie van op je Apple Watch krijgen!)
Je kunt er ook muziek naar streamen, in het interview wordt gerept van een familie die er altijd een paar bij zich heeft als de kinderen gaan zwemmen. Edwin heeft op het moment voornamelijk ondersteuning voor iOS, de mogelijkheden via Android zijn nog een stuk beperkter.

Moeten we deze nu niet ook testen in het iXperium om zijn educatieve meerwaarde te kunnen inschatten?

Nog wat meer achtergrondinfo: