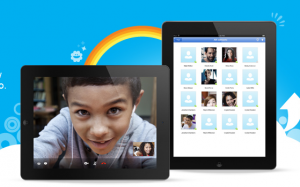 Het was een terugkerende opmerking vanochtend bij de workshop Vergaderen op Afstand: in de meeste gevallen hebben de apps op de iPad net wat minder functionaliteit dan op de laptop/desktop. Ok, bij FaceTime speelde dat niet (want voor Windows gebruikers is er niet eens een client), maar bij Lync (alleen tekstchat), Google+ Hangouts (geen iPad client, iPhone client met beperkte ondersteuning voor Hangouts) zeer zeker wel. Positieve uitzondering was eigenlijk Adobe Connect, al kun je daar geen presentatie vanuit de iPad uploaden (je kunt hem wel besturen vanaf de iPad).
En ook de Skype client heeft zijn beperkingen. Dat ik geen groepsgesprekken op kon zetten vanaf de iPad, dat wist ik. Maar met audio wist ik dat ik er wel aan kon deelnemen als iemand vanaf een laptop het gesprek opzet.
Omdat ik nog geen Skype Plus account had, had ik groepvideobellen (met meerdere personen met audio en video via Skype vergaderen) nog niet getest. Dat blijkt dus helemaal niet te kunnen. Ook niet als je als Skype gebruiker wordt uitgenodigd in een groepsgesprek. Balen. En ook niet wat ik verwacht had op basis van de informatie op de website van Skype.

Daar staat namelijk:
Betaal een beetje en haal meer uit Skype
Profiteer nog meer van Skype op iPhone met bijvoorbeeld groepsvideobellen met Skype Premium; onbeperkt bellen met een abonnement; of bellen en betalen naar gebruik met Skypetegoed. En alle betalende klanten kunnen rekenen op een geheel reclamevrije Skype-ervaring.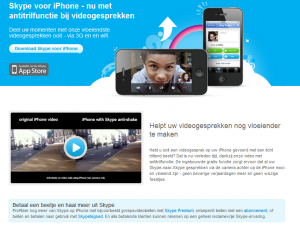 Nou staat die tekst niet bij de iPad informatie, maar ook bij de iPhone blijkt dat niet te kloppen, want klik je door naar de FAQ van de iPhone versie dan staat daar:
Can I participate in a group video call?
No, the call will automatically switch to audio only, as Skype for iPhone and iPod touch do not support group video calls.
En dat bleek vandaag tijdens de test ook.
Kom op Skype, Fring heeft dit voor 4 personen al sinds juni 2011!