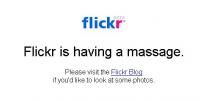 Flickr krijgt op het moment een massage. Tenminste volgens het bericht op de site. Het is geen servercrash of zo, want de foto's hier bij dit bericht worden nog gewoon getoond. Doorklikken levert echter ook de massageboodschap op. Vervelender is het op mijn Flickr-pagina die gebruik maakt van de Flickr-API om foto's te laten zien. Die pagina is nu helemaal leeg. Dat is dus iets om rekening mee te houden als je een site bouwt die daar gebruik van maakt.
Het "verdorie, net als ik even naar de site toe wilde"-gevoel deed me ook terug denken aan de practicumlessen die ik als docent gegeven heb. Vooral tijdens praktijktentamens op de computer kon je het natuurlijk niet hebben dat het netwerk juist op dat moment niet beschikbaar was. Voor de ELO bij mijn werkgever is dat al helemaal het geval. Upgrades en onderhoud moeten dan ook heel voorzichtig gepland worden. En het is niet eenvoudig om een datum/tijd te vinden die voor geen van de ruim 30 instituten een probleem is.
Het gaat me hier overigens niet om de discussie "het is nog een bèta" of "het is toch gratis" (bij Flickr in mijn geval overigens dus niet), maar wel over het risico van het gebruiken van externe diensten zoals deze in (bijvoorbeeld) het onderwijs.
Weet overigens iemand of dit onderhoud ingepland en aangekondigd was? Dan weet ik in ieder geval waar ik moet kijken om het de volgende keer vooraf te weten.
[update 11:15] Flickr is er inmiddels al weer…