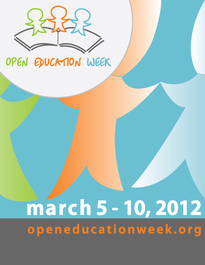 Volgende week staat in het teken van de Open Education Week. Op de website beschrijven ze het zelf als volgt:
Open education is about sharing, reducing barriers and increasing access in education. It includes free and open access to platforms, tools and resources in education (such as learning materials, course materials, videos of lectures, assessment tools, research, study groups, textbooks, etc.).
De Netwerk Open Hogeschool Informatica (NOH-I) is een samenwerkingsverband tussen de Open Universiteit Nederland, Fontys Hogescholen, de Hogeschool van Anrhem en Nijmegen, De Haagse Hogeschool en de Hanzehogeschool Groningen.
De NOH-I gebruikt waar mogelijk Open Educational Resources (OER) bij het ontwikkelen van modulen en zal zelf ontwikkelde materialen ook zo veel mogelijk op die manier weer beschikbaar stellen. Om de ontwikkelteams binnen de NOH-I te scholen in het gebruik van OER zijn we bezig met het ontwikkelen van een trainingsmodule. Die zal, zodra hij gereed is, ook als OER beschikbaar gesteld worden. In het filmpje (even doorklikken als je dit op de voorpagina leest) vertel ik al kort iets over de opbouw van die module.
Lees verder….