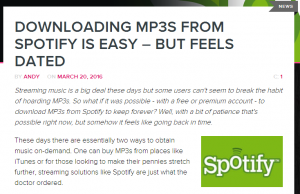 Op Torrentfreak kwam gisteren een bericht voorbij waarbij uitleg gegeven wordt over hoe je MP3's kunt downloaden van Spotify playlists.
Natuurlijk kan het, het zal blijven kunnen zolang Spotify bestaat, al was het maar op de ouderwetse manier van het inpluggen van een audiokabel in de headset-uitgang en microfoon-ingang van een laptop. Maar, zoals ik in 2013 concludeerde, ik ga er niet aan beginnen.
Toen had ik als belangrijkste argument dat ik het businessmodel van Spotify niet wilde ondermijnen, maar nu, ruim 2 jaar later moet ik ook gewoon constateren dat ik het helemaal niet mis. Er is nauwelijks muziek bijgekomen die ik echt graag zou willen bewaren. De meeste muziek die ik nu beluister is inderdaad "voor nu". Maar waar ik vroeger alles kocht van een artiest of band, of dat op LP, CD of cassettebandje was, vind ik het nu wel goed zo. Ik luister de meest vreselijke muziek (vinden sommigen, ja, ook in mijn Spotify play history kom je Justen Bieber tegen om maar iets te noemen), maar muziek die ik zou willen bewaren omdat ik bang ben hem anders niet meer te kunnen beluisteren?  Ik maak het eigenlijk niet meer mee. Natuurlijk, ik sla nu ook op in de favorieten bij Spotify en die tracks zou ik dan kwijt raken. Maar och, dan zijn ze toch wel weer op andere plekken te vinden/te beluisteren of aan te schaffen?
Ik vraag me alleen af of de muziek bobo's zich wel voldoende realiseren wat het positieve effect van Spotify is maar ook hoe pijnlijk duidelijk Spotify maakt dat de waarde van muziek enorm gedaald is…..