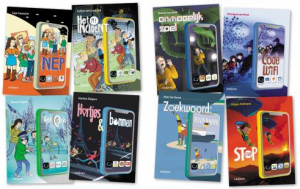 Spannende leesboeken die kinderen ook nog iets leren over ict-geletterdheid. Bestaan die? 
Ik las het boek "Gehackt" geschreven door Remco Pijpers en wilde weten of de andere boeken uit de serie er ook in slaagden om een verhaal neer te zetten dat gewoon leuk of spannend was om te lezen terwijl ze de lezer uitdagen om na te denken over verschillende onderwerpen op het gebied van ict-geletterdheid.
Daarom heb ik aan onderzoekers van het iXperium / Centre of Expertise Leren met ict gevraagd of ze
elk een van de andere zeven boeken wilden lezen. Een aantal van hen heeft kinderen in de leeftijd van de doelgroep van de boeken en heeft het boek samen met hem/haar gelezen.