Zoals we in Nederland Kennisnet en SURF/SURFnet hebben, zo heeft het Verenigd Koninkrijk Jisc (Ooit was het JISC maar net als bij SURF dekt de oorspronkelijke betekenis van de afkorting de lading van de diensten niet echt meer). En ook Jisc heeft een model opgesteld voor de digitale geletterdheid van studenten en docenten: het Jisc digital capabilities framework (PDF). Als je in Nederland met digitale geletterdheid bezig bent, dan is het hoe dan ook handig om ook het Jisc model eens te bekijken, maar deze blogpost gaat niet zozeer of dat raamwerk, maar over een ander onderdeel van het dienstenaanbod, de Jisc Student Digital Experience Survey
De dienst bestaat uit een online vragenlijst waar ik helaas niet aan kan omdat toegang beperkt is tot alle FE/HE (Further Education / Higher Education) instellingen in het Verenigd Koninkrijk.
Maar naar aanleiding van de ervaringen van de afgelopen tijd heeft Jisc, samen met de NUS (National Union of Students) inmiddels ook een roadmap opgesteld, en die is wel als PDF te downloaden door iedereen (PDF).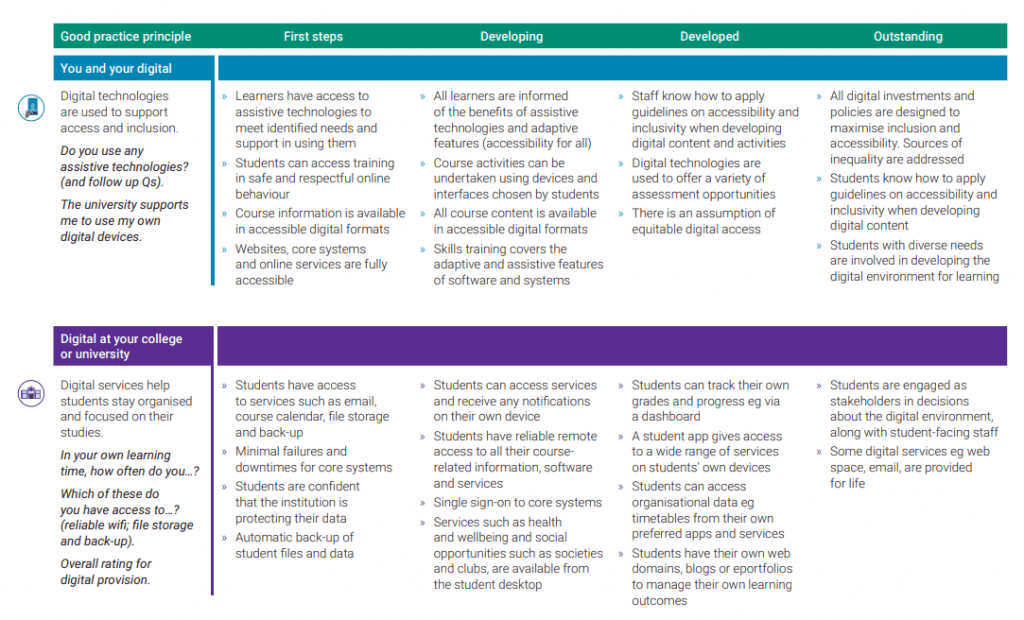 Hierboven zie je een voorbeeld van de informatie in de roadmap. Het idee is dat je als onderwijsinstelling met de verschillende betrokkenen (dus ook studenten!) rond de tafel gaat zitten om te kijken hoe het staat met de ondersteuning van de studenten op de verschillende gebieden. Sta je als onderwijsinstelling nog aan het begin, zijn er al stappen gemaakt, doe je het al heel goed?
Ik kan me voorstellen dat het voor een onderwijsinstelling heel spannend is om dit te doen. Wat als je overal slechts de basale ondersteuning biedt? Wat gaat het je kosten (aan inspanning) om de andere doelen te halen? Wat moet je doen om je docenten zover te krijgen dat zij hun rol hierbinnen kunnen vervullen?
Maar juist daarom vind ik het ook wel een interessante aanpak. Voorzieningen en ondersteuning niet langer als iets extra's waarbij een student blij mag zijn als dat er is, maar als een basisvoorziening waarover je met je studenten in gesprek gaat.