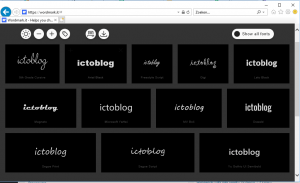 Op Where The Smiles Have Been kwam ik een handige tip tegen voor als je op zoek bent naar een leuk / geschikt lettertype. Bijvoorbeeld om te snijden op een snijplotter of gewoon in een presentatie of afbeelding.
Op https://wordmark.it/ kun je een snel overzicht krijgen van hoe een woord of een aantal woorden er uitzien in de lettertypes die beschikbaar zijn op jouw computer. Je kunt ze in het wit op zwart of zwart op wit bekijken.
Ik moest wel even overschakelen naar Internet Explorer omdat ik op Chrome geen gebruik meer maak van Flash en de site heeft Flash nodig om alle lokale fonts te kunnen lezen.