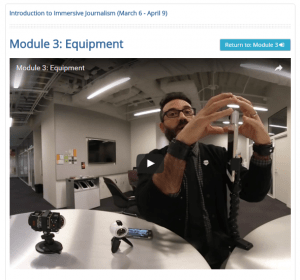 De MOOC is inmiddels al bij week 4, maar ik wil je er toch (nog een keer) op wijzen. Het gaat over de Intro to Immersive Journalism: Virtual Reality & 360 video.
Waarom doe ik dat pas bij week 4? Omdat ik eerder zelf ook nog geen tijd gehad heb om deel te nemen aan de MOOC (waar ik me wel voor ingeschreven had). Tja, komt voor. Dus ik heb nog niet alle discussievragen, forumberichten en opdrachten bekeken. Ga ik waarschijnlijk ook niet doen.
Wat ik wél gedaan heb en ook als week 5 beschikbaar komt nog ga doen, is het bekijken van de bronnen die aangeboden worden.
Soms zijn het zelf gemaakte video's en materialen, zoals de video bij Module 3 over apparatuur om 360 graden video te maken. Helder, voor mij niet persé nieuws, maar een duidelijk overzicht van waar je nu aan moet/kunt denken als je, als journalist, met 360-graden video aan de slag wilt. En als je in het onderwijs actief bent, dan gelden die afwegingen net zo.
Nou staat die video als verborgen/gelinkte video op YouTube, maar ik link er nu toch maar even niet rechtstreeks naar. Het is veel leuker als je je even zelf registreert voor de MOOC, dan kun je hem daarna hier vinden. Absoluut de moeite waard als je je met Virtual Reality, Augmented Reality of 360 graden video bezig houdt (in het onderwijs, in de journalistiek, in ….).
Een grappig en leerzaam kort filmpje dat ik nog niet kende en wel gewoon online beschikbaar is, is deze van YouTube. How NOT to shoot in 360 (degrees video).