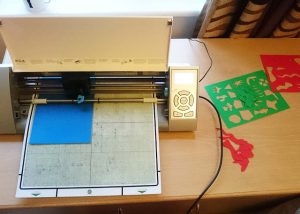 Om te beginnen: nee, ik heb er nog geen besteld en nee, ga ik ook niet doen.
Vandaag kwam ik bij TechAgeKids een bericht tegen over het op maat maken van je eigen Google Cardboard. Eigenlijk kwam ik daar vanwege de titel "Make Your Own DIY Virtual Reality Viewer" terwijl het eigenlijk slechts het versieren ervan is.
Maar goed, een van de foto's bij het bericht zie je hiernaast, het is een snijmachine van het merk Silhouette. Nieuwsgierig naar de prijs van zo'n apparaat dat duidelijk ook voor thuisgebruik was, ging ik aan het zoeken. En wat je dan tegen komt is meer dan je in heel wat vakanties zelf kunt uitproberen.
De prijs? Zo'n 300 euro voor de goedkoopste modellen, oplopend naar een paar honderd euro meer voor wat uitgebreidere modellen.
Voor de duidelijkheid: het is geen apparaat dat alleen vinyl kan snijden, je kunt er ook bv papier of stof mee snijden. En in veel gevallen ook scannen of tekeningen plotten. Ik noem het even een vinylsnijder omdat de eerste "live" versie die ik van zo'n apparaat tegen kwam in de Makersbuzz bij de opening van het ontdeklab in Deurne.
De apparaten zijn, voor thuisgebruik, goedkoper dan een lasersnijder omdat het met een mesje gaat en niet met een laser. Dus er zijn grenzen aan wat je kunt snijden.