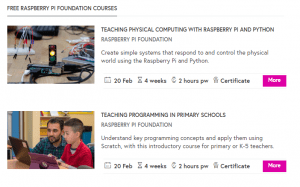 Op 20 februari 2017 starten op het FutureLearn platform twee MOOCs die samengesteld zijn door de Raspberry Pi Foundation. De ene heet "Teaching Physical Computing with Raspberry Pi and Python"  en de andere "Teaching Programming in Primary Schools". Ik heb nog geen zicht op de inhoud, ik heb me aangemeld om een kijkje te kunnen nemen, maar ook dan moet je wachten totdat de MOOC start op 20 februari.
De MOOCs hebben zo te zien al eens eerder gelopen, ik ben benieuwd of er iemand is die ze al gevolgd heeft? Met een geplande tijdsbelasting van 2 uur per week en een looptijd van 4 weken moeten ze te doen zijn. Uit ervaring weet ik dat het helpt als je de MOOC samen met iemand anders (bv een of enkele collega's) volgt. Dat geeft net dat beetje extra stimulans om de opdrachten te maken etc.
Mooi bij deze MOOCs is overigens dat ze zich, tenminste gezien de titel, lijken te richten op leerkrachten en de vraag "hoe neem je dit op in het onderwijs?". Daarom ook ben ik er nieuwsgierig naar, omdat ik wil zien of ze ook voldoende stil staan bij de achterliggende didactiek. We gaan het zien.
(gevonden in editie 54 van The MagPi, gratis te downloaden als PDF)