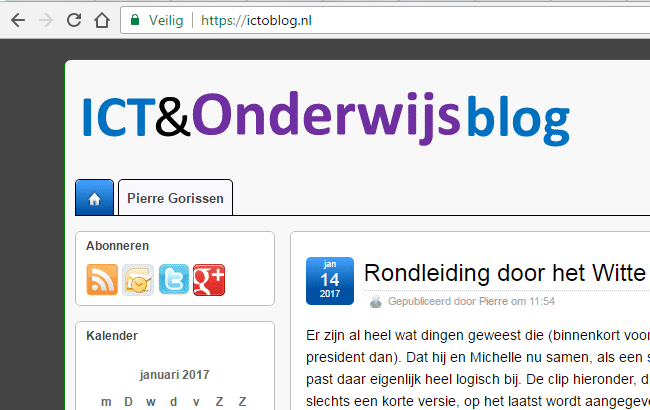 Als je dit weblog bezoekt in Internet Explorer zal het je waarschijnlijk niet of nauwelijks zijn opgevallen, maar sinds vanochtend wordt ook het openbare deel van het ICT & Onderwijs via een beveiligde verbinding uitgeserveerd. Google Chrome is een stuk duidelijker in het aangeven van de status van de verbinding (zie afbeelding).
Voor het admin-deel was het al langer zo en daar vond ik het wél absoluut de moeite waard. Al was het maar voor de inlogpagina daarvan zodat ik niet het risico zou lopen dat mijn wachtwoord daar afgevangen zou worden.
Voor het openbare deel (de berichten en andere pagina's) vind ik het zelf eigenlijk niet echt noodzakelijk en is het meer een stapje geweest om me hier te conformeren aan de wens van partijen als Google dat alle sites gebruik maken van een beveiligde verbinding. Voor de duidelijkheid: nog niet ál mijn sites zijn beveiligd. Het Activegeek weblog is dat op dit moment nog niet. Daar wil ik gebruik maken van een gratis certificaat van https://letsencrypt.org/ en de installatie en configuratie daarvan is iets meer uitzoekwerk. Wordt dus vervolgd.
p.s. een handig lijstje met stappen die je moet zetten kun je hier vinden. In mijn geval was het meeste werk het nalopen van alle plugins die verwijzingen naar afbeeldingen via http:// gebruikten. Was een kwestie van pagina herladen, kijken of ik een "Veilig"-melding kreeg en zo niet in de bron zoeken naar problematische afbeeldingen.