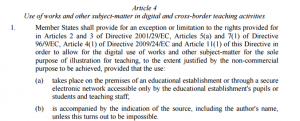 De Neth-er website verwijst naar een wetsvoorstel van de Europese Commissie voor de modernisering van Europese regelgeving over copyright (PDF). Het is een wetsvoorstel dat ik anders nooit zou hebben doorgespit, het bestaat uit de gebruikelijke vaktaal en mogelijk staan er heel veel beperkende maatregelen in, maar ik was alleen even op zoek naar het artikel dat hiernaast staat (article 4 van Title II) waar ook door Neth-er verwezen wordt:
Onderwijsmateriaal en copyright
Het wetsvoorstel bevat ook een copyright uitzondering voor digitaal materiaal dat wordt gebruikt voor educatieve doeleinden. Voorwaarden voor deze uitzondering zijn dat het gebruik plaatsvindt bij onderwijsinstellingen en dat naar de bron van het materiaal wordt verwezen.
Als ik het goed begrijp, dan zou dit voorstel, mits het daadwerkelijk aangenomen worden, een stevige uitbreiding van de mogelijkheden van het zorgeloos gebruik van auteursrechtelijk beschermd materiaal in leeromgevingen van onderwijsinstellingen zijn. Want tot nu toe ben je, ook in het onderwijs beperkt in wat je digitaal mag doen met zulk materiaal. En "the digital use of works and other subject-matter for the sole purpose of illustration for teaching, to the extent justified by the non-commercial purpose to be achieved" betekent, als ik het goed begrijp ook dat je niet digitaal materiaal kunt scannen en ter illustratie beschikbaar kunt maken. Dus een verzameling achtergrondmaterialen bij een onderwerp zouden dan (met bronvermelding) in een leeromgeving kunnen worden opgenomen.
Nogmaals: het is een voorstel, ik neem aan dat uitgevers en anderen hier zeker nog wel wat op aan te merken gaan hebben, ik zou ook wel eens willen horen hoe een jurist dit leest, maar het zou een stap de juiste richting op zijn.