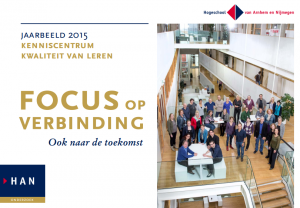 Het is niet altijd even eenvoudig om uit te leggen waar ik nou precies werk. Bij de HAN, dat snappen mensen meestal nog wel. Het iXperium, als in de fysieke ruimtes in Arnhem of Nijmegen (en sinds kort Oss), dat kennen sommigen ook nog wel. Hoe daar onderzoek aan verbonden is of hoe het zit met het Kenniscentrum Kwaliteit van van Leren, waar wij onderdeel van zijn, is meestal een stuk minder bekend.
Na het Jaarbeeld 2015 van het Kenniscentrum Kwaliteit van Leren, als PDF hier te downloaden, weet je nog steeds maar een heel klein beetje van wat we doen en waar me mee bezig zijn, maar wel al wat meer.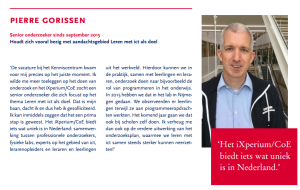 Ik sta er, als (relatief) nieuwe medewerker, ook in. Heel weinig woorden (het is nu al een document van 30 pagina's), maar ik neem aan dat er uit af te leiden is dat ik het hier in ieder geval prima naar mijn zin heb.
Denk jij na het lezen van het document nu "wauw, daar zou ik ook wel onderdeel van willen uitmaken!"? Nou dat kan! Er lopen op dit moment nog een aantal vacatures voor (senior/junior) onderzoekers bij de verschillende teams. Kijk dan zeker even op deze pagina. Twijfel niet te lang, de vacatures sluiten 3-7-2016.