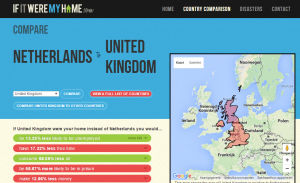 Als je in een land woont, dan is dat vaak je referentiekader. Je voorstellen hoe veel groter of kleiner andere landen zijn, of waar andere verschillen zitten, is niet altijd even eenvoudig.
Richard Byrne verwijst naar drie verschillende sites die elk op hun eigen manier je in staat stellen (of je leerlingen in staat stellen) om hun eigen land te vergelijken met de rest van de wereld.
Zo krijg je bij If It Were My Home niet alleen de verschillen in afmetingen tussen twee landen te zien, maar ook een aantal andere vergelijking zoals over werkloosheid, energieverbruik, inkomen etc.
Overlapmaps is de meest eenvoudige van het drietal en laat "slechts" een kaart zien van de twee gekozen landen over elkaar.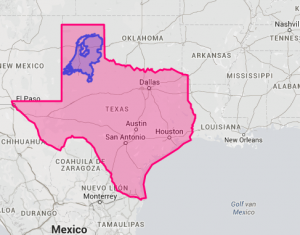 Bij The True Size Of beginnen ze standaard met een lesje in "wist je wel hoe groot Afrika eigenlijk is?" door de VS, China en India er overheen te leggen. Een van mijn favorieten is de vergelijking van Nederland versus Texas. Het geeft wel een goed beeld van hoe klein ons kikkerlandje wel niet is.
Hoe dan ook, mooie sites om bij de hand te hebben.