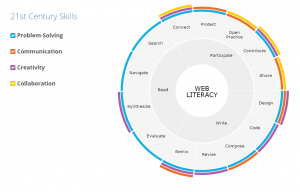 Het Web Literacy Framework van Mozilla is niet nieuw en zeker niet het enige model dat we beschikbaar hebben om (een deel van) ict-geletterdheid te beschrijven. Ik vond de afbeelding bij D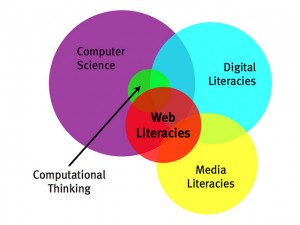 oug Belshaw (zie hiernaast rechts) een mooie toevoeging als het gaat om de vraag hoe "web literacy" zich verhoudt tot bijvoorbeeld computational thinking en computer science, terwijl het model zelf (zie de afbeelding links) weer een link legt naar de al evenzo bekende 21st Century Skills.
Mooi bij het framework van Mozilla vind ik de directe link naar voorbeelden van leeractiviteiten die in dat kader uitgevoerd kunnen worden. Daarbij staan dan wel weer de Mozilla tools veelal centraal, het is niet echt een heel brede set. Terwijl ik me voor leerkrachten juist kan voorstellen dat zo'n link tussen vaardigheden en activiteiten die zij leerlingen kunnen laten uitvoeren om aan die vaardigheden te werken heel nuttig is.
Discussie over het framework is er wat mij betreft ook nog wel. Zo staat bijvoorbeeld bij "Evaluate" als omschrijving: "Comparing and evaluating information from a number of sources online to test credibility and relevance." maar wordt dat alleen bij "Problem-Solving" gerekend, terwijl ik me hier toch ook kan voorstellen dat je dat via samenwerking onderling doet. Maar wellicht is dat juist een uitdaging bij veel van zulke competenties.