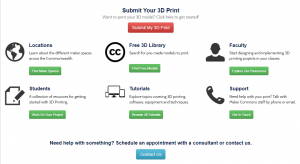 Kijk, zo laat je zien dat je 3D printen serieus neemt als onderwijsinstelling. Penn State universiteit heeft een 3D printservice ingericht voor studenten en medewerkers. Nadat ze online een account aangemaakt hebben, kunnen ze via die weg ook bestanden uploaden om te printen. Dat printen gebeurt dan op een van de maar liefst 32 MakerBot desktop 3D printers. Zodra de print klaar is krijgen ze een mailtje en kunnen ze hem komen ophalen.
Ik heb nergens op de site iets kunnen vinden over kosten, waarschijnlijk zijn de prints dus helemaal gratis, dat zou ook kunnen gezien de opmerkingen bij het printformulier:
Due to high demand and limitations of the MakerBot Innovation Center interface, we are not able to honor quantity requests. Each submission will be printed one time.

Additionally due to high demand, users may only have one submission printing at a time in the interest of providing equal access for all Penn State students and faculty. Please prioritize your print submissions.
Daaronder staat dat het op dit moment naar verwachting 8 dagen duurt voordat je print klaar is. Dat is dus iets vervelender. Zeker omdat ze zich ook nadrukkelijk richten op docenten met voorbeeldopdrachten die ze aan studenten zouden kunnen geven. Dan moet je voldoende tijd inplannen voor het daadwerkelijk laten printen van het "huiswerk" van studenten. Laten we het kinderziektes noemen.
Ik ben benieuwd waar Penn State e.e.a. uit betaald. Als die printers continue staan te printen, dan zal ook het in de lucht houden ervan de nodige personele inspanning vergen. Wat dat betreft is het haast verrassend dat ze niet een slag professioneler zijn gegaan.
(getipt door Campustechnology.com)