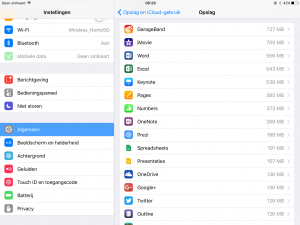 Het was een van de keerzijdes van "uniform apps" én de toename van variatie in aantal iOS apparaten: apps voor iOS werden langzaam maar zeker belachelijk groot.
En dat merkte je vooral als je baas je zo'n 8GB iPhone gaf maar ook op een 16GB iPhone of iPad, zeker als je niet afhankelijk wilde zijn van een internetverbinding voor het bekijken van je foto's, vaak problemen.
Hiernaast zie je de top-verbruikers van ruimte op een nog "lege" iPad Mini. D.w.z. dat er nog geen lokale bestanden op staan, dit zijn alleen de applicaties. Daarom ook nog geen vermelding van de foto's, die op mijn vorige iPad Mini ook zo'n 600MB aan opslagruimte claimden. Garageband is de eerste app die nu (weer) op het lijstje staat om er vanaf te verdwijnen, niet alleen is hij enorm groot (727MB) maar het is ook een app die voor mij alleen "leuk" is. Op plek 2 staat iMovie met 705MB voor alleen de applicatie en dat is er eentje die je als iPhone gebruiker toch zeker ook beschikbaar wilt hebben. Zeker als je van die 4K video's maakt op een iPhone 6s of zo. De Microsoft Office apps, de Apple en Google equivalenten vormen zo ongeveer de rest van de topverbruikers van ruimte.
Hoe komt dit en waarom waren ze eerst kleiner?