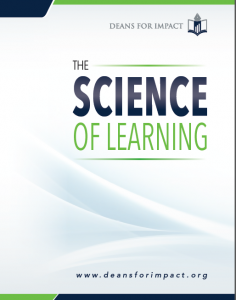 The Science of Learning is een (gratis te downloaden) document van de hand van de Deans for Impact Het document geeft een samenvatting van bevindingen uit onderzoek in de cognitieve wetenschappen over hoe studenten/leerlingen leren. Bij die resultaten staan steeds praktische implicaties daarvan voor zowel het leren als het doceren.  Het is gericht op (nieuwe) docenten, leraren in opleiding en lerarenopleiders.
In het document komen in totaal zes onderdelen aan bod:
Hoe leren/begrijpen studenten nieuwe ideeën/concepten?
Hoe leren studenten nieuwe informatie?
Hoe lossen studenten problemen op?
Hoe wordt een transfer tot stand gebracht tussen het leren en nieuwe situaties binnen en buiten de klas?
Wat motiveert studenten om te leren?
Wat zijn veel voorkomende misverstanden over het leren van studenten?
Elk onderdeel is opgebouwd uit een beschrijving van de bevindingen, met een verwijzing naar literatuur en daarnaast een beschrijving van de praktische implicaties van de bevindingen.
Het document is beknopt gehouden, dat betekent dat de literatuur meestal slechts uit één bron bestaat en dat niet iedereen meteen zal weten hoe de implicaties toe te passen in de eigen praktijk. Een mooie verdiepingsopdracht wellicht dus voor de lerarenopleiders.
Het laatste onderdeel, over de veel voorkomende misverstanden, had wat mij betreft ook in het document zelf verder uitgewerkt mogen worden. Nu staat er alleen dat docenten zulke misconcepties moeten kunnen herkennen, niet hóe ze die (of andere die er niet staan) herkennen of wat dat betekent voor hun onderwijs.
Je kunt het document hier downloaden.
(dit bericht verscheen ook op het iXperium weblog)