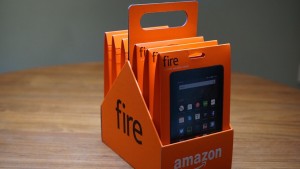 Wat doe je als je Apple bent? Dan ontwikkel je dure, premium hardware en weet die in grote aantallen te verkopen. Wat doe je als je Amazon bent? Dan wil je dat mensen zo eenvoudig mogelijk toetreden tot jouw ecosysteem. Dat bestaat niet uit premium hardware, dat bestaat uit diensten: e-books, muziek, films, spellen.
Hoe doe je dat? Je zorgt er voor dat je reader te vinden is op de iPad, de iPhone, Android. Maar je maakt het ook spotgoedkoop om hardware aan te schaffen waar je zelf controle over hebt. De Fire phone werd een flop, maar als de fire tablet niet heel erg slecht is, dan wordt dat een hit: een tablet voor slechts $49,99 per stuk. En nu met als introductie-aanbieding: 6 voor de prijs van 5! Een 6-pack tablets voor iets minder dan $250,-
OK, er zit maar 8GB intern geheugen in, maar je kunt via een SD-kaartje dat geheugen uitbreiden. Het ding heeft 2 camera's, dus je kunt er mee Skypen, als je Amazon Prime hebt (want daar gaat het Amazon natuurlijk om!) kun je het gebruiken om films te bekijken, om boeken te lezen. En niet alleen, met de hele familie. In een omgeving die deels af te sluiten is voor de kinderen ook nog.


En is dat niet genoeg voor je, dan is er ook een model voor $99,99 of voor $149,99 of eentje voor $99,99 speciaal gericht op kinderen. En natuurlijk hebben ze ook nog e-readers voor $79,99 en meer.
Begrijp me niet verkeerd, natuurlijk zijn de iPads kwalitatief ongetwijfeld beter, sneller, dunner, lichter, mooier, voorzien van een appstore met veel meer games en apps. Het gaat er meer om: is de Fire goed genoeg?
Want dan wist ik het als ouder wel als mijn kind zou zeuren voor een tablet. Dan kregen ze geen iPad.
Jammer dat ze niet naar Nederland leveren op het moment.