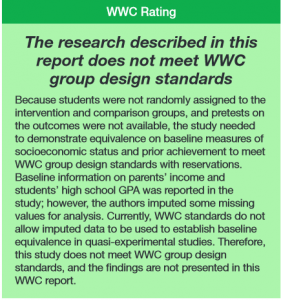 Het WWC is een onderdeel van het Amerikaanse Ministerie van Onderwijs. Ze zijn een "clearing house", d.w.z. dat ze onderzoek dat relevant kan zijn voor het onderwijs reviewen, resultaten combineren tot samenvattingen etc.
Ik kende het clearinghouse niet, en kwam er eigenlijk ook alleen omdat een van hun recente reviews in Feedly opdook. Het ging daarbij om het rapport "Interactive Online Learning on Campus: Testing MOOCs and Other Platforms in Hybrid Formats in the University System of Maryland" (als PDF hier te downloaden). En over dat rapport wordt een nogal hard oordeel geveld: het onderzoek voldoen niet aan de ontwerpstandaarden van de WWC groep en daarom worden de resultaten van het onderzoek niet eens in de review opgenomen. Dus, het is niet zo dat ze de resultaten opnemen en zeggen "pas op, het onderzoek voldoet niet aan de ontwerpstandaarden", nee, ze nemen ze helemaal niet op in de review.
Op zich is dat natuurlijk wel een heel heldere en duidelijke manier van werken. Want dit was een review van een individuele studie. Als ze een samenvattend verhaal gaan maken, dan lopen ze ook niet per ongeluk zelf het risico dat ze de conclusies van deze studie daar in meenemen.
Je kunt stellen dat het een harde manier van werken is met de redenatie "omdat het niet aan de WWC standaarden voldoet betekent nog niet dat de conclusies onjuist zijn". Maar dat hangt waarschijnlijk af van wat jij persoonlijk wenselijke resultaten vindt, dus resultaten die jouw opvattingen ondersteunen of niet.
Op zich vind ik het dus een goed idee. Nadelen zie ik ook wel. Het is een duur orgaan, zo verwacht ik, want het zorgvuldig reviewen kost de nodige tijd. Deze studie was van ergens in 2014 en is nu pas aan de beurt. Ander onderzoek op het gebied van MOOCs e.d. kan ik er nog niet vinden, in het algemeen is de set reviews die ict gerelateerd is nog heel beperkt.
Wellicht zou dan een (centraal beheerd) meer crowdsourced initiatief zinvoller zijn. Dus dat je mensen (niet anoniem) uitdaagt een mening te geven over een rapport / onderzoek. Van de andere kant. Ik schrijf niet per definitie positief over rapporten en/of onderzoeken (alleen als ik dat ook echt ben) en ik kan me niet voorstellen dat me dat altijd in dank wordt afgenomen. Dus zo'n centraal orgaan dat dat in plaats daarvan doet is soms ook wel weer handig. 😉