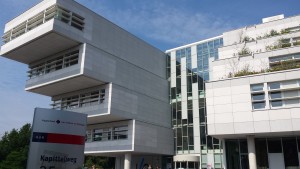 Tijd voor een bericht dat ik een aantal van jullie al via de mail gestuurd heb:
Met ingang van 1 september a.s. ga ik Fontys verlaten en aan de slag als senior onderzoeker bij het iXperium / Center of Expertise leren met ict van de Hogeschool van Arnhem en Nijmegen (standplaats Nijmegen, I/O gebouw – zie de foto bij het bericht).
Het iXperium/Centre of Expertise Leren met ict is een samenwerkingsverband van de lerarenopleidingen en het Kenniscentrum Kwaliteit van leren van de HAN met het basisonderwijs, voortgezet onderwijs en middelbaar beroepsonderwijs in de regio rond Arnhem en Nijmegen. De samenwerking richt zich op onderwijs dat beter recht doet  aan verschillen tussen leerlingen met behulp van ict en op het opleiden van ict-geletterde jongeren. De focus ligt hierbij op het opleiden, professionaliseren en faciliteren van leraren in een duurzame verbinding tussen werkveld, opleiding en onderzoek. De mogelijkheid om daar zelf als senior onderzoeker, onder leiding van Marijke Kral (lector leren met ict), het team van onderzoekers te gaan versterken, was een kans en uitdaging die ik niet voorbij kon laten gaan.