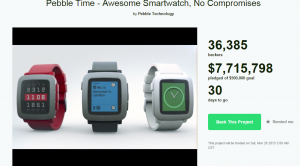 Gisteren ging de nieuwe campagne van Pebble Technologies via Kickstarter van start. Ze plaatsten een campagne voor de Pebble Time, de opvolger van hun oorspronkelijke Pebble, die indertijd ook via Kickstarter gelanceerd werd. Toen (mei 2012) was het een hit met een opbrengst van $10.266.845 en bijna 70.000 backers. Nu gaan ze dat bedrag met gemak halen, want na ongeveer 24 uur staat de teller al bijna op 8 miljoen dollar (bij 'slechts' 36.385 backers overigens).
En bij zo'n "succes" is daar natuurlijk het nodige van te vinden. Daniel Cooper vindt het een slechte zaak dat Pebble ook voor deze actie gebruik maakt van Kickstarter. Hij is daar overigens niet de enige in. Er zijn meer mensen die Kickstarter als een soort "van het volk voor het volk" platform zien. De massa die de kleine man/vrouw helpt die anders geen mogelijkheid gehad zou hebben om een droom in vervulling te laten gaan om de wereld een betere plek om te wonen te maken.
Kan ik me iets bij voorstellen. Maar van de andere kant: het een hoeft het andere niet uit te sluiten. Natuurlijk, Pebble had die $500.000,- die ze als doel gesteld hadden bij Kickstarter helemaal niet nodig om de Pebble Time uit te brengen. Het bedrijf heeft 1 miljoen exemplaren van het oorspronkelijke model verkocht, dan moeten ze zoveel echt wel in kas of in krediet hebben. Ze gebruiken Kickstarter dus vooral voor de hype en de reclame.
Maar zolang Kickstarter ook nog gewoon voor de kleintjes toegankelijk blijft heb ik daar eigenlijk minder problemen mee. Als ik bijvoorbeeld op Rasperry Pi zoek, dan vind ik nog steeds een verzameling van kleine projectjes die voortbouwen op die goedkope kleine computer. Bijvoorbeeld om de MagPi op papier uit te brengen, ook dit is een terugkerend project maar echt wel eentje waarbij je kunt stellen dat de risico's voor de makers zónder Kickstarter (te) groot zouden zijn. Of zoiets als de PIIO met een doel van $750 waarbij dan Kickstarter 5% krijgt en het betalingsverkeer ook nog eens 3-5% kosten er af haalt.