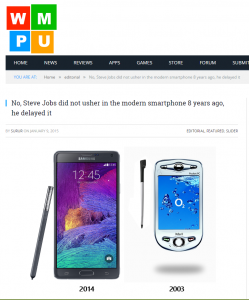 Het spijt me, maar dit bericht kon ik niet zomaar voorbij laten gaan, of met 'slechts' een tweet de wereld in sturen.. Natuurlijk, het staat op het MPoweruser blog, en de auteur heeft in zijn profiel staan: "Site Admin and Windows Phone enthusiast, he has been using Windows Mobile devices since before they were called PocketPC™s". Dat geeft natuurlijk al een beetje aan dat hij geen iPhone fan is.
De uitspraken zijn mooi. Bijvoorbeeld:
The truth however is that today the most popular modern smartphones owe more to Windows Mobile than the iPhone, which explains why Apple has only around 10% worldwide market share. The iPhone was and is a smartphone dead-end and diversion of what it means to have a pocket pc – a powerful flexible and affordable device and you have control over.
De laatste zin is wat raadselachtiger:
Who knows, without Steve Jobs to divert us, the new Windows may even have been a Microsoft OS.
OK, dus hij denkt niet dat Windows het nieuwe Windows wordt?
Hoe dan ook. Eerlijk gezegd vind ik de hele discussie niet zo relevant: Apple heeft 8 jaar geleden echter wel degelijk de smartphone-markt flink opgeschud. Ik had een Windows Phone en qua gebruiksgemak (applicaties via een kabeltje vanaf je PC installeren) was het in verhouding tot een iPhone een ramp. Dat er betere opties zullen komen dan een iPhone, of zelfs dat er betere opties zijn al op dit moment dan een iPhone, ja, die uitspraak geloof ik zeker.
Maar dat betekent niet dat de impact van Apple op die hele markt nou meteen gebachitaliseerd hoeft te worden.