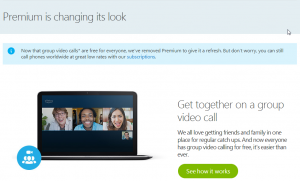 Ik moest het even opzoeken. Ik vreesde namelijk dat ik weer het "slachtoffer" geworden was van de noodzaak die een bedrijf voelde om een betaald deel van hun diensten gratis te maken. Nadat Flickr! dat eerder al gedaan had. Maar ik was inmiddels géén betalende Skype Premium gebruiker meer. Ik heb vorig jaar, nét voordat Skype een actie had met gratis 1 jaar videoconferenceren met groepen mijn betaalde account opgezegd. Die actie liep eigenlijk nog tot het einde van 2014, maar nu is met meerdere mensen bellen met video (of gedeelde desktop) dus voor iedereen gratis.
Ik ben benieuwd wat het "nieuwe" premium gaat worden, of ze dan nieuwe diensten weten te verzinnen die de moeite waard zijn.
Naast de optie om met een groep te kunnen videobellen had/heb ik daarnaast via "Office 365 University voor PC of Mac (4 jaar)", aangeschaft via SURFspot, op het moment elke maand 60 minuten gratis bellen naar "vaste nummers" wereldwijd. Ik zet "vaste nummers" daarbij even tussen haakjes, want vast zijn dat soort nummers vaak al lang niet meer. Thuis bel ik naar buiten via VOIPdiscount en internet, tenzij naar buiten bellen via UPC goedkoper is, dan schakelt het VOIP-kastje dat ik daar voor heb automatisch het gesprek daar naar toe door. En gebeld worden via UPC loopt nu inderdaad nog naar een draadloze telefoon in huis, maar binnenkort als UPC de app daar voor heeft vrijgegeven ook niet meer exclusief.
Idem voor mijn werk waar we nu overgestapt zijn op Lync 2013 voor bellen. Daar kan een telefoontje op mijn mobiel terecht komen, maar ook op mijn iPad. En bellen gaat eveneens op beide manieren.
Ik dwaal af, maar het maakt wel duidelijk dat de wereld van online bellen al lang niet meer alleen aan Skype voorbehouden is. Dat ze regelmatig moeten kijken hoe ze zich nog kunnen onderscheiden van anderen is dan logisch.
Ik moet wel maar weer eens testen of de Skype client op de iPad inmiddels deel kan nemen aan groepvergaderingen. Dat was namelijk in het begin niet zo. Officieel kun je in ieder geval van daaruit nog geen gratis groepsgesprekken starten, maar dat zou in mijn geval geen belemmering moeten zijn omdat ik ook betaald al groepsgesprekken aan kon.