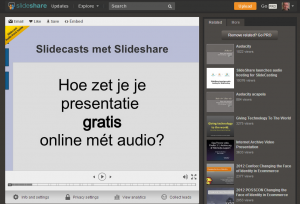 Het leek een leuke toevoeging, in 2007: geef gebruikers de mogelijkheid om audio toe te voegen aan een presentatie die je op Slideshare gezet hebt. Ze moeten dan wel ook nog even de dia-overgangen toevoegen/aangeven. Kost wat tijd, maar dan heb je ook wel wat. Nou ja, eigenlijk niet. Want als je bijvoorbeeld Camtasia Studio koopt of een van de gratis tools gebruikt om schermfilmpjes te maken, dan neem je je verhaal met audio veel sneller op.
Het concept is dus niet aangeslagen en vandaag stuurde Slideshare een mailtje rond dat ze er per 30 april 2014 mee gaan stoppen. Bestaande Slidecasts zullen niet bewaard blijven, de audio zal eronder weg gehaald worden. Dat maakt mijn Slidecast over Slidecasts (zie hierboven) uit 2007, vanaf dat moment tamelijk nutteloos. Jammer, maar helaas. Ingehaald door de technologie. En dan eigenlijk ook wel weer goed dat het "uit" gezet wordt.
Wie weet kunnen ze, nou ze toch aan het wijzigen zijn, ook het Pro-account betaalbaar maken. Twintig euro per maand voor een dienst waar je je PowerPoints kunt plaatsen is namelijk echt wat veel van het goede. Vijftig of zestig euro per jaar zou me meteen over de streep trekken.