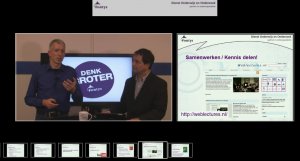 Vandaag was het tweede webinar in de serie van drie webinars die de VOR ICT in samenwerking met de dienst Onderwijs en Onderzoek van Fontys deze maand organiseert. Vandaag was ik zelf spreker met wederom Karel Kreijns als moderator.
Tijdens het webinar ga ik in op mijn promotieonderzoek, maar kijk ik ook naar het gebruik van video bij MOOCs en bij de Flipped Classroom. Op basis daarvan kijk ik naar de vraag of een docent zich zorgen zou moeten maken over het verschijnsel dat er steeds meer lessen/instructie 'ingeblikt' wordt.
De opname van het webinar is hier al te bekijken. Het presentatiebestand staat hier.
Je kunt nog aanmelden voor het laatste webinar van deze maand over Digitaal Toetsen. Dat webinar zal volgende week op dinsdag 17 december 2013 weer van 12:15 – 13:00 uur verzorgd worden door Desirée Joosten-ten Brinke, Lector Eigentijds toetsen en beoordelen bij Fontys Lerarenopleiding Tilburg. Ga daarvoor naar deze pagina om je aan te melden.
N.B. Je hoeft je maar één keer aan te melden (met naam + mailadres) om toegang te krijgen tot zowel de opname(s) als de live webinars. Als je je dus al voor een van de vorige webinars hebt aangemeld, dan krijg je automatisch volgende week een herinnering.
Deelname is helemaal gratis. En voor de duidelijkheid: wij maken alleen gebruik van je mailadres om je vooraf nog eens aan de webinars te herinneren en/of als er bijvoorbeeld technische problemen zouden zijn of als we een webinar op het laatste moment zouden moeten annuleren (gaan we natuurlijk niet van uit!).
Wil je ook op de hoogte blijven van de andere activiteiten van de VOR ICT, dan kun je je aanmelden voor de mailinglijst.