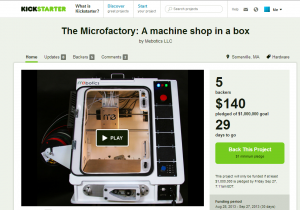 Een week of twee geleden schreef ik over de Mebotics Microfactory, een apparaat dat er functioneel heel erg aantrekkelijk uitzag: meerkleuren 3D printer en frees in één apparaat.
Maar toen was de Kickstarter-campagne nog niet live en ook nog niet duidelijk wat het apparaat zou moeten gaan kosten. Inmiddels heb ik de mail binnen met de verwijzing naar de Kickstarter-pagina en is het helaas duidelijk dat ik deze nog maar niet ga aanschaffen.
Het volledige apparaat moet namelijk $4.995,- gaan kosten, dat is dan exclusief $2.000,- internationale verzendkosten. Totaal dus een slordige $6.995,- of €5.244,-
Verwachte leverdatum: oktober 2014 (!)
Ja, sorry hoor, maar hier wordt dus gezegd: we moeten minimaal 1 miljoen dollar bij elkaar krijgen (anders gaat de Kickstarter niet door), we innen dat geld nu (zo werkt dat bij Kickstarter), gaan aan de slag en over 12 maanden krijg je een product. Dat vind ik een beetje té grote gok voor zoveel geld.