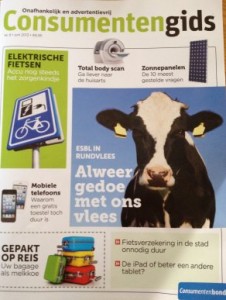 Ik moet bekennen dat ik niet altijd enthousiast ben over de "gadget-tests" die de Consumentenbond uitvoert. Het blijft toch een wat moeilijk vakgebied voor een breed georiënteerde consumentenorganisatie. Maar de drie berichten/tests in het juni 2013 nummer vind ik eigenlijk heel erg goed. Beknopt, maar voor de doelgroep wel heel verhelderend.
De eerste test gaat over tablets. In een kader worden netjes Android ("helemaal te personaliseren"), iOS ("zelfs peuters snappen het") en Windows RT/Windows 8 ("mobiel kantoor") toegelicht als opties. Ik betwijfel dat voor een leek het verschil tussen Windows RT en Windows 8 helemaal duidelijk wordt, maar gezien het aantal woorden zijn ze er zo duidelijk over als kan.
Daarnaast komen de stappen die je moet zetten bij het keuzeproces van een tablet aan bod. Ik ga ze uiteraard niet helemaal beschrijven (daar moet je het artikel zelf maar voor lezen/de Consumentengids kopen), maar de stappen zijn:
Stap 1: Kies iOS, Android of Windows;

Stap 2: Kies de juiste maat;
Stap 3: Kies de interne opslag;
Stap 4: Kies Wifi of 3G.
In de test tabel met tablets hebben ze een onderscheid gemaakt tussen t/m 8 inch en vanaf 8 inch. Bij de kleinste categorie scoort de iPad Mini beste uit de test en de Samsumg Galaxy Tab 2 7.0 als beste koop terwijl bij de grote tablets zowel de iPad 2 als iPad met retina scherm in de top 5 staan, net als drie Windows RT tablets. De eerste Android tablet (Galaxy Tab 2 10.1) staat pas op plek 6 (wel als beste koop). De eerste (en enige) Windows 8 tablet (Asus VivoTab Smart) is pas op plek 10 te vinden.
Lees verder….