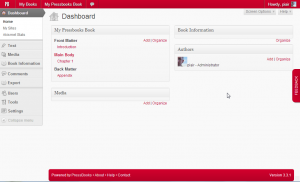 Het was een van de vragen die nog open stond na de eBook workshop tijdens Dé Onderwijsdagen 2012. Ik wist namelijk dat het kon, maar was de namen van de systemen vergeten waarmee het kon (tja, daar heb ik een weblog voor).
Het idee: je werkt online, alleen of met meerdere auteurs, aan een elektronisch boek. Omdat het online gebeurt, is het boek eenvoudig ook online toegankelijk te maken. Maar het is dan naar wens ook te exporteren naar ePUB-formaat, Kindle-formaat of naar een PDF zodat je hem ook kunt printen. Ideaal dus want je kunt gebruik maken van de kracht van de verschillende media. Online en offline.

Hugh McGuire van PressBook gaf er onlangs een presentatie over:

Ik moet bekennen dat het verhaal een beetje traag gaat, maar de boodschap is helder (de slides staan hier, dat bladert sneller).
Je kunt direct met PressBook aan de slag. Tot 5 boeken is gratis en zoals in de presentatie aangegeven zijn ze voornemens om het product volgend jaar open source te maken. Dan zou je het zelf kunnen hosten. Het is gebaseerd op WordPress, dus zelf hosten moet geen probleem zijn en qua technisch beheer ook te overzien.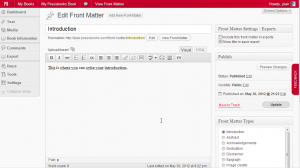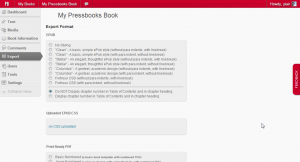 Ik heb nog geen aanleiding gehad om Pressbook zelf voor een compleet boek te gebruiken. Mijn proefschrift wordt geschreven op basis van artikelen, die moesten nu per stuk steeds in een journal specifieke opmaak aangeleverd worden, dus dat schiet niet op. Voor het uiteindelijke proefschrift zou het wel een optie kunnen zijn, maar dan moet het overzetten écht laagdrempelig zijn, anders begin ik er niet aan.
p.s. een alternatieve dienst is BookType, die is nu al als open source omgeving te downloaden.