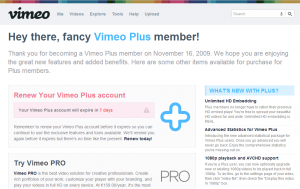 Het is weer bijna zover. Over 7 dagen verloopt mijn Vimeo Plus account. En dus moet ik bepalen of ik weer 60 euro en 50 cent wil betalen om ook komend jaar Vimeo Plus gebruiker te blijven.
Doe ik dat niet, dan valt mijn account terug naar basic. En daarmee wordt het een stuk minder 'nuttig'. Ik mag dan nog maar 500MB per week uploaden in plaats van 5GB. Dat is dus 1 kort filmpje en geen HD. Dus dat ik dan maar max 1 HD per week kan uploaden is dan niet eens een probleem. Er wordt reclame getoond bij mijn account, dat is natuurlijk onhandig. De bronbestanden zijn niet voor download beschikbaar, ook wel jammer.
Maar eigenlijk betekent het vooral dat ik dan dus gewoon alle HD video's op YouTube zet. Zoals ik nu ook doe. Daar heb ik geen beperking per dag of per week. Daar gaat het uploaden zo snel als mijn internetverbinding het aan kan, dus ook daar geen echte problemen. Eigenlijk zou alleen het met een wachtwoord kunnen afschermen van video's die online staan iets zijn wat ik bij YouTube niet voor elkaar kan krijgen.
Maar de laatste video die ik op Vimeo gezet heb is van 4 maanden geleden (met wachtwoord, onzichtbaar voor buitenwereld), die daarvoor was 9 maanden geleden. De afgelopen 12 maanden kwamen er in totaal 7 nieuwe video's bij. Dat is dus bijna 9 euro per video.
Is er iemand die mee leest en die zelf wel nog een Vimeo Plus account heeft? Waarom? Wat was het onderscheidend voordeel ten opzichte van YouTube? Ik heb nog 7 dagen om te verlengen.