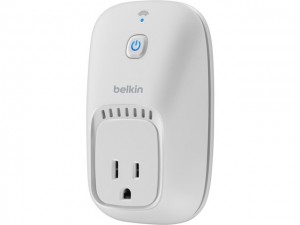 Het is helaas (weer) een product dat (zover ik nu kan zien) nog niet in Europa beschikbaar zal komen. Ik had er namelijk best belangstelling voor gehad, deze Belkin WeMo Switch.
Het is een 'stopcontact' dat je op afstand, met je iPhone of iPad aan of uit kunt schakelen. Je kunt dus het licht aan of uit schakelen of een ander elektrisch apparaat (een router? een harde schijf? een printer wellicht?) aanzetten. De schakelaar kost in de VS $49,99 (dat zou dus zo'n €40,- moeten zijn als je er rekening mee houdt dat zulke elektronica hier bij ons altijd wat duurder uitvalt).
Het zou mij wel handig lijken, en nee dan niet om een elektrische kachel op afstand aan of uit te zetten, maar zoals gezegd, om het aantal stuks elektronica dat altijd aan staat nog meer te verminderen.
Lees verder….