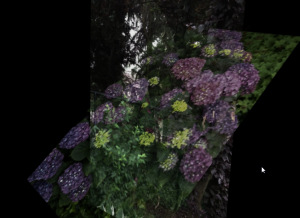 Ik weet dat de titel van deze blogpost een beetje negatief klinkt, maar ik vrees dat ik het eigenlijk niet anders kan stellen. Ik heb inmiddels al meer apps gekocht voor het maken van foto's, panorama's en 3D foto's met de iPhone dan dat ik me wil herinneren. En geen van allen heb ik langer gebruikt dan 1 of 2 dagen na aanschaf. En dat zal met Stilla ook niet anders zijn vrees ik.
Het idee is grappig: je maakt 2 tot 4 foto's en de app zet die dan in een soort 3D vorm aan elkaar vast. Blijkbaar gebeurt dat voor een groot deel op basis van verschillen in licht tussen beide foto's, aangevuld met de informatie die de gyroscoop van je iPhone levert.
Het filmpje van de makers laat een paar mooie voorbeelden zien. Ik heb het zelf even getest in de tuin vanochtend. Het resultaat werkt het beste als je heel rustig met de pijltjestoetsen of de spatiebalk door de drie foto's bladert.
(getipt door AppAdvice)