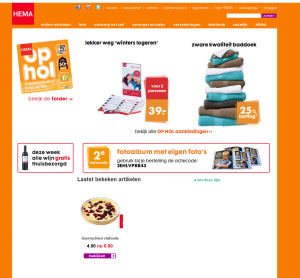 Het was gezellig druk bij de HEMA gisterenavond. Nee, niet in de winkels zelf, maar online. Een van hun taarten, de "bosvruchten clafoutis" was namelijk afgeprijsd van 4 euro per stuk naar 0 euro per stuk. En dan kun je op Twitter en andere online media zoals FOK.nl rekenen om zo'n nieuwtje bekend te maken bij online Nederland.
De site was gisterenavond dan ook nauwelijks te bereiken. Via Twitter werd er nog even over gespeculeerd of dit een ludieke actie van de HEMA was omdat ze vandaag 85 jaar bestaan. Maar eigenlijk wisten de meeste Twitteraars ook gisterenavond al dat het een fout moest zijn. Dat weerhield enkelen er blijkbaar niet van om heel grote hoeveelheden taart te bestellen.

Ikzelf heb ook gekeken of het nog lukte. En ja hoor, om 23:21 uur was het nog mogelijk een bestelling te plaatsen. Omdat het traag ging heb ik twee keer op bestellen gedrukt voordat ik zag dat er taarten in het mandje zaten. Maar ik heb het dus bescheiden gehouden, geen 100 taarten op zaterdag, maar volgende week vrijdag, op 11-11-11. Leek me een veel toepasselijkere datum. 🙂
Waarom besteld? Nou, niet omdat ik verwacht dat de HEMA de taarten gaat leveren, maar omdat ik nieuwsgierig ben naar de manier waarop ze dit gaan oplossen. Gisterenavond en vandaag leverde dit ze veel gratis reclame op. Dat kunnen ze herhalen als ze ook een ludieke oplossing verzinnen voor de afhandeling van deze fout.
Wordt dus vervolgd!