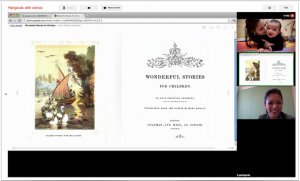 Natuurlijk had ik eigenlijk eerst even moeten wachten totdat ik zelf toegang heb tot de "Hangouts with extras". Zodat ik zelf eerst kon testen hoe goed de extra opties zijn. Maar ik wilde er toch al even aandacht aan besteden. Want de specificatielijst is veelbelovend:
Hangouts with extras
Spending time together goes hand in hand with actually doing things together. Dinner with family can easily turn into movie night at the local theater, for instance. And running into old friends can inspire anything from photo sharing to vacation planning. Hangouts has always included a basic set of in-room actions (like group chat and co-viewing of YouTube videos), but we want to make it easier to do a lot more.

That's why we're previewing some extras, including:
Screensharing: for when you want to show off your vacation photos, your high score, your lesson plan or whatever else is on your screen
Sketchpad: for when you want to draw, doodle, or just scribble together
Google Docs: for when you want to write, plan or present something with others
Named Hangouts: for when you want to join or create a public hangout about a certain topic (like fashion or music or sports…) (bron)
Even samengevat: met Google+ Hangouts kun je (straks) met maximaal 10 personen tegelijkertijd, gratis, videoconferencen én je desktop delen. Stel je eens voor wat dat betekent voor projectgroepjes in het onderwijs? Zowel voor medewerkers/docenten als voor studenten?
Die kunnen gewoon bij Google+ Hangouts terecht om samen te werken aan documenten. Helemaal als dat voor Google Docs gebeurt, want dan kunnen ze allemaal tegelijkertijd editen.
Voor grote groepen, webinars voor meer dan 10 personen is Google+ Hangouts nog niet geschikt. Er is wel sprake van een "Hangouts On Air" waarbij een onbeperkt aantal mensen mee kan kijken, maar dat is blijkbaar voorlopig nog voorbehouden aan een selecte groep gebruikers.
Als Google dit gratis en betrouwbaar aan gaat/kan bieden, dan denk ik dat een aantal leveranciers van concurrerende diensten moord en brand zullen schreeuwen. Want dat zou de online videoconferencing/samenwerken markt op zijn kop zetten.