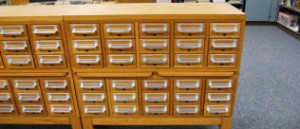 Ik vond dat deze meer verdiende dan alleen een link via twitter. Deze bibliotheek heeft een nuttige manier gevonden om hun oude kaartenbakken te hergebruiken. Voor wie het niet meer weet: in die kaartenbakken stonden, voordat we alles digitaal konden opzoeken, kleine kaartjes met de informatie over de boeken die er in een bibliotheek te vinden waren (o.a. en zeker niet onbelangrijk: de plek waar ze te vinden waren). Aangezien dat nu veel gemakkelijker via de computer kan, hebben hadden de kaartenbakken geen functie meer.
Het blijkt echter dat je er prima een Nook of Kindle in kunt leggen (een iPad zal niet passen denk ik). Wat gaten boren, stekkerdozen aan de achterkant en labels aan de voorkant en je kunt zo een verzameling eReaders klaar hebben liggen voor je klanten.
Het uitlenen van eReaders door bibliotheken staat overigens nog ter discussie (mag dat wel?). Maar voorlopig is het een nuttig hergebruik van de kasten. Of het de toekomst is van de bibliotheek? Wie weet voor een bepaalde groep gebruikers.
(getipt door edukindle)