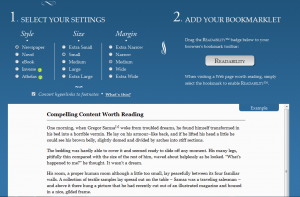 Het kan tegenwoordig voor komen dat ik heel lang niet op een website of weblog zelf terecht kom. Oorzaak daarvan is het feit dat ik veelvuldig gebruik maak van Google Reader of Reeder op de iPad. Heerlijk daarbij vind ik dat ik niet gestoord wordt door de veelvoud van layouts op de verschillende websites, de soms schreeuwerige advertenties en reclames etc.
Wil je datzelfde nu ook gewoon in je browser voor elkaar krijgen, dan zijn er een aantal opties. De eerste waar ik naar keek, viel al snel af. Pure Reader voor Safari wilde bij mij iet installeren. Ik kreeg steeds een foutmelding.


De Chromeversie van de plugin wilde wel installeren, maar ik kon daar de werking van de plugin niet ontdekken. Helaas. Maar er waren nog twee andere opties.
Lees verder….