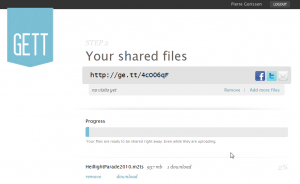 Via Mashable kwam ik vandaag bij een nieuwe gratis dienst voor het delen van bestanden: ge.tt
Je kunt er in principe bestanden met een onbeperkte omvang mee versturen. De website geeft aan dat ze zich het recht voor behouden om hier grenzen aan te gaan stellen, maar dat is nu in ieder geval niet het geval. Je mag er uiteraard alleen spullen mee verspreiden die jij mag verspreiden, anders verwijderen ze het materiaal. En ook als het minimaal 30 dagen niet gedownload is, bestaat de kans dat ze het periodiek opschonen.
Heel handig is dat anderen al kunnen beginnen met downloaden van een bestand, terwijl jij het bestand nog aan het uploaden bent. Zo ben ik op dit moment een bestand van 937MB aan het uploaden (High Definition versie van dit filmpje) maar een downloader hoeft niet te wachten totdat ik helemaal klaar ben, maar kan meteen al starten met downloaden. Uiteraard kan dat downloaden dan niet sneller klaar zijn dan mijn uploaden, maar het scheelt hoe dan ook tijd. Je kunt de upload aan zetten en de link meteen mailen naar iemand.
Ook mooi is dat audiobestanden meteen in de browser afgespeeld kunnen worden. In de reacties bij Mashable noemt iemand als voorbeeld: selecteer een aantal MP3's op je computer (je kunt er meerderen ineens sharen) en laat hem starten met uploaden. Je kunt ze dan meteen ook al beginnen af te spelen op een andere computer of je mobiele device want ook een iPhone of iPad speelt de MP3's zo in de browser af. Hoewel je meerdere MP3's als één URL kunt delen zul je ze dan wel één voor één moeten opstarten om ze af te spelen. Waar ik me wel over verbaasde was dat toen ik dit als test uitprobeerde, het aantal downloads binnen een minuut of twee al aan het stijgen was. Terwijl ik die link nog met niemand gedeeld had.
Geen idee dan ook hoe lang deze dienst in de lucht blijft, maar voor nu zou ik zeggen: doe er je voordeel mee.